A trucker is completely absorbed in his music, so much that he misses the warning signs and tears straight through the road barrier! The truck is heading for disaster...! Will Pumpy manage to stop the truck in time?

Script, direction, animation and production: Dennis Dean


Audio: Inner Nova / Senne van Marissing
CST is a global player in the field of tires. With more than 20,000 employees Cheng Shin tires is the largest manufacturer of bicycle tires in the world and is represented in more than 150 countries. Commissioned by CST the Netherlands, Danny den Hartog created and made the official Cheng Shin Tire mascot. It's popularity is growing every day, especially in China he is very popular.
This happy little character was named "Pumpy" in China, and has become quite famous over time.
In Xiamen (4.5 million inhabitants) China, where the Cst head office is located, a museum/amusement park is being built.  In and around this park are a couple of statues(real life statues made out of stone) of  Pumpy the mascot, the largest of which is about 5 meters high.
Furthermore you will encounter Pumpkin everywhere in the city of Xiamen. At the airport, advertising on city buses, billboards etc.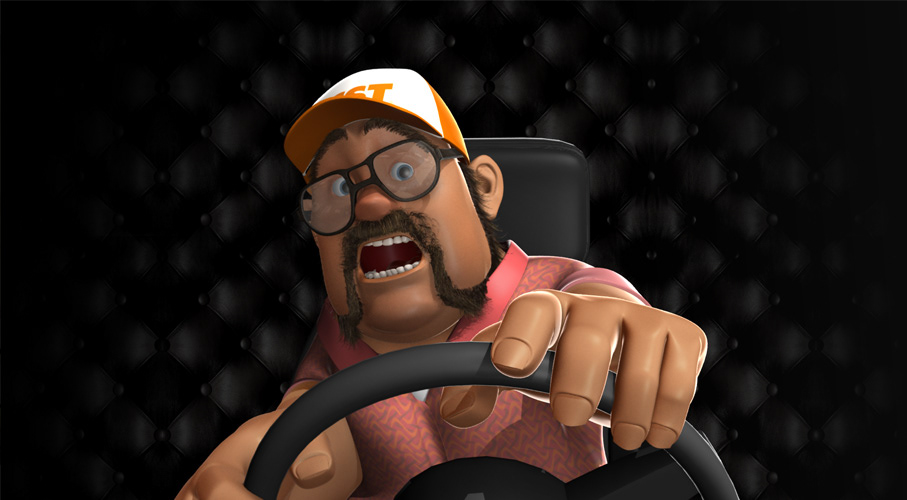 Een trucker gaat helemaal op in zijn muziek. Hierdoor mist hij de waarschuwingsborden en scheurt dwars door de wegafzetting heen. De truck dendert op de afgrond af...Zal het Pumpy lukken de truck op tijd te stoppen?
De animatie "Sweet home Alabama" is een promo filmpje/tv-commercial bedoeld voor wereldwijd gebruik.

Script, regie, animatie en uitvoering: Dennis Dean
Audio: Inner Nova / Senne van Marissing

CST is een wereldspeler op het gebied van banden. Met meer dan 20.0000 werknemers is Cheng Shin tires de grootste producent van fietsbanden ter wereld en is vertegenwoordigd in meer dan 150 landen.
Dennis Dean bedacht en maakte de mascotte voor Cst. Dit vrolijke mannetje, in China genaamd "Pumpy", is in de loop der tijd een bekend beeld geworden.
Letterlijk "beeld" zelfs. In Xiamen(4,5 miljoen inwoners) China, waar het Cst hoofdkantoor is gevestigd, is men op dit moment druk bezig met de bouw van een Cst-museum/attractiepark. In en om dit park staan enkele beelden van de Pumpy de mascotte waarvan de grootste zo'n 5 meter hoog is.
Verder kom je overal in de stad Xiamen Pumpy tegen. Op het vliegveld, reclame op stadsbussen, billboards etc.